Woodward's Intelligent Generator Protection Relays provide a broad scope of primary and backup protective functions,
from overcurrent protection to generator differential protection. This highest availability is a key factor for reliable power generation.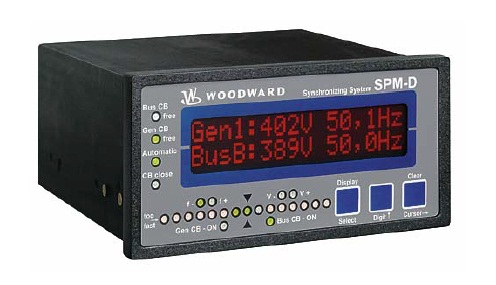 Woodward understands the time-intensive nature of Power Generation projects. Ensuring the longevity of components is one way we can make our customers successful.
Woodward has supplied and supported the well-established SPM-D line of synchronizers for 20+ years. With the state of the art Drop-In replacement successor, SPM-D2 the life of this synchronizer line is now extended. All of the SPM-D2 synchronizers are password protected and are configurable either through HMI as before or through ToolKit configuration tool with USB connectivity.
System Line
These Protection and Control Systems offer a very high degree of functionality with a separated operation panel (HMI).
Woodward´s digital "all-in-one" devices offer protection, control, supervision – complete solutions for medium voltage systems up to 132 kV. Safe feeder, line/cable, or transformer protection can be realized in the simplest way.
The CSP systems control nearly all switchgears on the market, and take into consideration all field interlockings and interlockings at station level. The CSP system consists of one main unit CSP, which is designed for mounting in the low voltage compartment, and a separate indication and operating unit CMP for door installation.
Profibus DP or Modbus RTU coupling to your SCADA system can be achieved via standardized interfaces such as IEC870-5-103.
Professional Line
Comprehensive protective functions and a competitive price performance ratio are the hallmarks of these relays.
Woodward´s digital separate or combined relays provide all common protection functions for low and medium voltage applications, and are designed for DIN rail mounting.
Rated voltage and frequency can be set by means of DIP switches; pick-up values and tripping delays via potentiometers.
The wide-range power supply for AC and DC make the relays universal. An optionally available interface adapter enables the devices to communicate with your SCADA system.
HighTech Line
These modular relays combine well-proven technology with easy handling.
Woodward´s modular protection devices for low voltage, medium voltage, and lower high voltage level have numerous and complex protection functions. The protection range includes basic time overcurrent protection, machine protection to high-grade differential protection.
In addition to relays with single protection functions, those with combined protection functions are available. Devices are designed for door mounting, either in separate housings or in 19″ racks. For back panel mounting an adapter is also available.
Thanks to our "plug-in" technology with automatic short-circuit mechanism for the current inputs, these relays can be changed during operation. LEDs and an alpha-numerical display show clear text indication of measuring, setting and fault values, and allow intuitive operation. Coupling to your SCADA system is achieved via the standardized interface.
HighPROTEC
This product line stands for the most sophisticated Protection Relays with the highest adaptability to Low Voltage, Medium Voltage, and High Voltage Systems.
HighPROTEC represents Woodward´s latest generation of power protection relays with dual core processors. The new device line is designed for complete protection of power generating and distribution systems.
During the development of the HighPROTEC Line, Woodward gives special emphasis to high flexibility and simple handling of the devices.
All HighPROTEC relays are furnished with a high-contrast graphic display. Ongoing measuring values, messages, alarms, and fault data are displayed in clear text. Guiding text assists the operator when setting parameters. Inadmissible inputs are prevented by plausibility checks.
All current and earth current inputs are designed for 1A and 5A. The nominal voltage of the voltage inputs and the switching thresholds of the digital inputs can be adjusted via software. The wide-range power supply unit covers all standard auxiliary voltages, both for DC and AC.
WI Line
All relays from this line are self-powered time overcurrent relays, receiving their energy from the current transformers.
All relays from this Woodward line are self-powered time overcurrent relays, which means they take their energy from the current transformers.
Since they do not require auxilliary power, the WI Line Relays are well suited for use in self-sustaining transfer and distribution stations, local grids, and ring-main-units.
Tripping characteristics range from two-stage, independent (DEFT) and dependent (INV) time overcurrent protection, up to special characteristic curves. As further options, we offer some relays with integrated earth fault protection.
Woodward has also developed serial products, which match nearly any circuit breaker commonly available on the market. The electronic parts of the relays are completely sealed in. This makes the relays resistant to even the very worst environmental influences